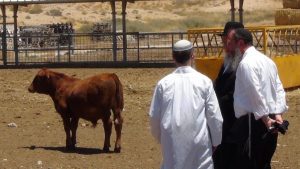 WE HUMANS are blinded by sight. That is, our natural senses often prevent us from seeing what's really going on around us in the spirit realm.
This week, we discuss the rebellion of Korah and Dathan, who accused Moses of taking Israel from a land flowing with milk and honey (Egypt) to die in the wilderness. The actions of the rebels, who'd seen God part the Red Sea, provide manna and water, and other assorted miracles over the previous thirteen months, make no sense without the whisperings and proddings of spirits.
Then we discuss one of the stranger sections of scripture, a description of a purification ritual in Numbers 19, the rite of the red heifer, and its connection to the movement in Israel to build the Third Temple–another example of trying to achieve victory over the spirit realm through our actions in the natural world. We explain why, if it ever takes place, this ritual will probably be performed on the Mount of Olives.
---
JOIN US IN ISRAEL! We will lead our next tour through the Holy Land March 31–April 9, 2024, with an optional three-day extension to Jordan, with visits to Mount Nebo, Wadi Rum, and Petra. Our special guest is Timothy Alberino!
For more information, log on to www.GilbertsInIsrael.com.
Our book Giants, Gods & Dragons is available in Kindle and paperback! Get it as part of a great package with more than 27 hours of our video teachings at the SkyWatchTV Store or at Amazon.com.
The latest installment of Sharon's Redwing Saga, King's Gambit, is available now in paperback and Kindle! Visit Sharon's author page at Amazon.com for more.
Derek's novels The God Conspiracy and Iron Dragons are available in paperback and Kindle! See the official trailers and learn more at the website for Rose Avenue Fiction (www.roseavenuefiction.com).
Click here for the complete archive of our New Testament Bible studies to date, and click here for the Old Testament studies to date. Or go to www.spreaker.com/show/gilbert-house-fellowship for all of the audio.