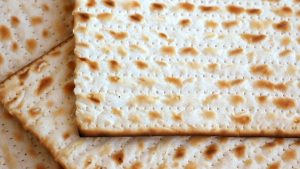 WE'D LIKE to say that we planned to read about Israel's first Passover celebration after leaving Egypt on this Passover weekend, but we didn't. God's scheduling is clearly much better than ours.
We discuss the importance of the Passover and the reason the Israelites waited more than a month to decamp and begin moving from Sinai, the connection between Sinai and Paran, and the significance of the silver trumpets God directed Moses to create to summon and warn the tribes of Israel.
We also share a few of the reasons we believe Sinai was in the vicinity of Petra in Jordan rather than further south in Arabia—and why we believe it was the site of the original Kaaba.
---
JOIN US IN ISRAEL! We will lead our next tour through the Holy Land March 19 – 30, 2023, with an optional three-day extension to Jordan, with visits to Mount Nebo, Wadi Rum, and Petra. For more information, log on to www.SkyWatchinIsrael.com.
Our book Giants, Gods & Dragons is available in Kindle and paperback! Get it as part of a great package with more than 27 hours of our video teachings at the SkyWatchTV Store or at Amazon.com.
The latest installment of Sharon's Redwing Saga, King's Gambit, is available now in paperback and Kindle! Visit Sharon's author page at Amazon.com for more.
Derek's novels The God Conspiracy and Iron Dragons are available in paperback and Kindle! See the official trailers and learn more at the website for Rose Avenue Fiction (www.roseavenuefiction.com).
Click here for the complete archive of our New Testament Bible studies to date, and click here for the Old Testament studies to date. Or go to www.spreaker.com/show/gilbert-house-fellowship for all of the audio.