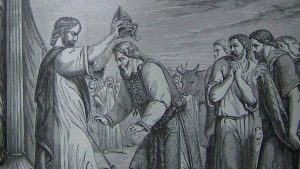 THE RULES for consecrating the Aaronic priesthood were very specific, and many of those rules were a repudiation of rituals the pagan neighbors of ancient Israel practices for their gods.
We discuss the purposed of the blood shed by the bulls and rams sacrificed during the ritual, the reasons for burning their livers and kidneys, and the restricted use of holy anointing oil. (In other words, we shouldn't use the recipe in Exodus 30 to make our own.)
We also follow a rabbit trail back to our discussion of the Ark of the Testimony two weeks ago and its possible origin along the lines of an Egyptian sacred bark. We note the connection between the ark, the sacred boats of the Mesopotamian gods, and the pagan belief that the Amorite moon-god Sîn and the Egyptian sun-god Re (or Ra) traveled across the sky in cosmic boats.
---
NOTE: New dates for our 2024 tour of Israel! We will lead our next tour through the Holy Land November 1–10, 2024 (dates pending confirmation with Lipkin Tours, with an optional three-day extension to Jordan featuring visits to Mount Nebo, Wadi Rum, and Petra. Our special guest is Timothy Alberino!
For more information, log on to www.GilbertsInIsrael.com.
Our book Veneration is available for Amazon's Kindle e-book reader! Click here and find out why readers rate Veneration 4.7 out of 5, describing it as "a must read" that "opens up…the Bible's hidden mysteries."
Click here for the complete archive of our New Testament Bible studies to date, and click here for the Old Testament studies to date. Or go to www.spreaker.com/show/gilbert-house-fellowship for all of the audio.