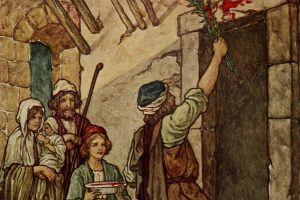 THE PASSOVER is a milestone in world history. It's a defining moment in the creation of Israel, and thus, a key event in the natural and spiritual history of the world.
We discuss the connection between the Passover and another event of primary importance, the crucifixion of Jesus. We also discuss the cross-pollination of the pantheons of the Amorites (Canaanites) and Egyptians, and why it's so difficult to draw one-to-one connections between the plagues of Egypt and the Egyptian pantheon. Some of the gods linked to specific plagues (such as Serapis, who's connected by some to the plague of locusts) weren't even worshiped in Egypt until centuries after the Exodus.
Here is a link to the paper by Dr. Douglas Petrovich that Derek mentioned, Amenhotep II and the Historicity of the Exodus-Pharaoh.
---
Our book Veneration is available for Amazon's Kindle e-book reader! Click here and find out why readers rate Veneration 4.7 out of 5, describing it as "a must read" that "opens up…the Bible's hidden mysteries."