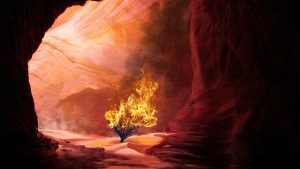 ISRAEL SPENT 430 years in Egypt. This is recorded in Exodus 12:40-41 and Galatians 3:17. How do we reconcile that with God's promise to Abraham that his descendants would return "in the fourth generation" (Gen. 15:16), or the four generations between Levi and Moses (Ex. 6:16-20)?
We address that, and Derek admits his timeline of the ancient Hebrews needs to be adjusted accordingly. For the record, he now agrees with the plain reading of the 430 years, which places Jacob and his family in Egypt in 1876 BC, which means Abraham arrived in Canaan in 2091 BC.
We also discuss Moses' encounter with God at Mount Sinai and His revelation of the divine name, and why Moses' birth story was not copied from that of the Akkadian king Sargon the Great.
You can read a summary of the proto-Hebrew inscriptions found in the Sinai, as translated by Dr. Douglas Petrovich, at The Interactive Bible.
---
Our book Veneration is available for Amazon's Kindle e-book reader! Click here and find out why readers rate Veneration 4.7 out of 5, describing it as "a must read" that "opens up…the Bible's hidden mysteries."