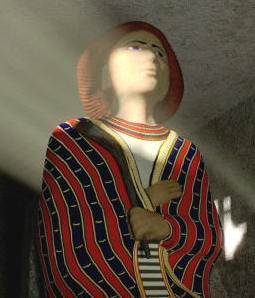 IF THE Bible had truly been edited to make the apostles, prophets, and patriarchs look better, chapter 38 of Genesis would have disappeared centuries ago.
This week, we discuss the unseemly episode of Judah's relationship with his daughter-in-law, Tamar, by whom he fathered Perez, an ancestor of Jesus.
We also discuss the history of the period to explain the timeline between Abraham and the Exodus, which is variously described as "four hundred years" (Gen. 15:13, Acts 7:6), "the fourth generation" (Gen. 15:16), and "four hundred and thirty years" (Ex. 12:40-41, Gal. 3:16-17).
How do we reconcile the 400/430 year discrepancy, and how do we square that with four generations (Jacob > Levi > Kohath > Amram > Moses), since Levi was an adult before Jacob and his family followed Joseph to Egypt?
Here's the best answer, courtesy of Answers in Genesis (https://bit.ly/3cYPWRu): In Abraham's day, Egypt included the Levant, modern Israel, Lebanon, and western Jordan and Syria. So, the 430 years began with Abraham was called from Harran because he was in "Egypt" almost as soon as he crossed the Euphrates. The 400 years began when Ishmael, his son by Hagar the Egyptian, mocked and persecuted Isaac.
The "fourth generation," of course, refers to Moses, counting his great-grandfather Levi as the first generation after Jacob.
Here is our timeline, based on this logic:
Amorite kingdom of Babylon founded — 1894 BC
Abraham born — 1951 BC
Abraham arrives in Canaan — 1876 BC
Isaac born — 1851 BC
Isaac marries Rebekah — 1811 BC
Hammurabi becomes king of Babylon — 1792 BC
Jacob and Esau born — 1791 BC
Abraham dies — 1776 BC
Hyksos take over Lower Egypt — c. 1750 BC
Isaac dies — 1671 BC
Jacob arrives in Egypt — 1661 BC
Jacob dies — 1644 BC
Joseph dies — 1590 BC
Ahmose drives Hyksos out of Egypt — c. 1550 BC
Moses leads the Exodus — 1446 BC
Joshua leads the Conquest — 1406 BC
---
NOTE: New dates for our 2024 tour of Israel! We will lead our next tour through the Holy Land November 1–10, 2024 (dates pending confirmation with Lipkin Tours, with an optional three-day extension to Jordan featuring visits to Mount Nebo, Wadi Rum, and Petra. Our special guest is Timothy Alberino!
For more information, log on to www.GilbertsInIsrael.com.
Click here for the complete archive of our New Testament Bible studies to date, and click here for the Old Testament studies to date. Or go to www.spreaker.com/show/gilbert-house-fellowship for all of the audio.