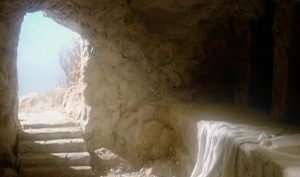 He is not here, for he has risen, as he said.

Matthew 28:6 (ESV)
That's the beginning of our study on the Resurrection. We look at texts from the Old and New Testaments to explain that Christ's resurrection is the template for what is in store for all who have accepted him as Lord and Savior.
From Genesis through Revelation, history is anchored to one overarching theme: Whose children will be raised up at the last trump.
Scriptures cited in this study:
Job 19:25-27
Psalm 82
Isaiah 24:21, 26:13-27:1
Ezekiel 39:11
Matthew 27:45-54, 28:1-10
1 Peter 3:18-21
1 Corinthians 15 (especially verses 35 through 55)
Revelation 20:1-15, 21:1
---
Our book Veneration is available for Amazon's Kindle e-book reader! Click here and find out why readers rate Veneration 4.7 out of 5, describing it as "a must read" that "opens up…the Bible's hidden mysteries."
Click here for the complete archive of our New Testament Bible studies to date, and click here for the Old Testament studies to date. Or go to www.spreaker.com/show/gilbert-house-fellowship for all of the audio.