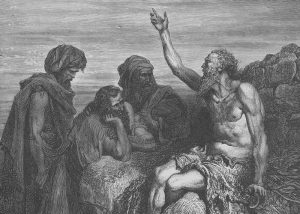 JOB CONTINUES his lament this week, openly wishing that he could hide in Sheol until God's anger was past. In response, Eliphaz the Temanite accuses Job of guilt, asserting that God only punishes the wicked.
We know that's true, but judgment doesn't always happen when we want it—right now, in the physical realm, where we can see it. Furthermore, we can see with our own eyes, as Job did, that bad things happen to good people.
We also discuss a messianic prophecy, a reference to the divine council (Job 15:17—the "holy ones" are probably the Watchers; see Daniel 4:13, 17) and what may be a reference to the dolmens of the Jordan River valley (the "heaps of ruins" in Job 15:28).
---
Click here for the complete archive of our New Testament Bible studies to date, and click here for the Old Testament studies to date. Or go to www.spreaker.com/show/gilbert-house-fellowship for all of the audio.