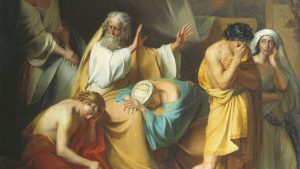 THE SONS of Noah divided the world between them. It appears that the youngest, Ham, made a power play to usurp the birthright of his older brothers — by having incestuous relations with his mother.
This week, we discuss the aftermath of the Flood. We talk about the symbol of the rainbow, God's command to Noah and his sons to fill the earth, and His prohibition on eating blood.
We also unpack the odd story of the cursing of Canaan (Gen. 9:20-27) and what Ham actually did to bring that curse about his son. The Faithlife Study Bible explains:
No combination of the relevant Hebrew words—ra'ah ("see"), galah ("uncover"), and erwah ("nakedness")—occurs in the OT in reference to homosexuality. The Hebrew phrase for "uncovering the nakedness of [a man]" actually refers to sexual intercourse with a man's wife. For example, in a literal rendering of Lev 18:7, "the nakedness of your father" means "the nakedness of your mother"; in Lev 18:14, a literal rendering of "the nakedness of your father's brother" is clarified as "his wife" and "your aunt" (see Lev 18:8; 20:11, 20, 21). Although the usual expression in Leviticus is to "uncover [galah in Hebrew] the nakedness," both idioms are used in parallel in Lev 20:17. Therefore, Ham's offense may have been maternal incest and the forcible rape of his mother. This explains the curse of Ham's son that follows.
---
Click here for the complete archive of our New Testament Bible studies to date, and click here for the Old Testament studies to date. Or go to www.spreaker.com/show/gilbert-house-fellowship for all of the audio.