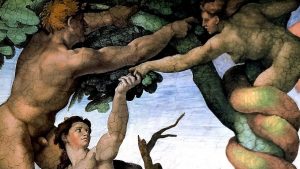 THE TREE in the middle of the garden proved to be a test and a trap—not just for Adam and Eve, but for the serpent as well.
This week, we discuss the location of Eden and explain why it was Jerusalem, based on the identities of the four rivers named in Genesis 2:10-13. We also talk about the relevance of the rivers Pishon, Gihon, Tigris and Euphrates to ancient cosmology, as reflected in Isaiah 47 and the ancient myth of the descent of Inanna (i.e., Ishtar, Astarte, Aphrodite, Venus, etc.) to the netherworld. 
The we dig into the relationship of Adam and Eve, why the serpent wasn't a serpent, why the seraphim may be griffins, and why the cherubim are not feminine angels with graceful wings, much less chubby little flying babies.
Here is the link to the article by Dr. Nicolas Wyatt that Derek mentioned, "A Royal Garden: The Ideology of Eden" (link opens PDF document).
---
Click here for the complete archive of our New Testament Bible studies to date, and click here for the Old Testament studies to date. Or go to www.spreaker.com/show/gilbert-house-fellowship for all of the audio.