AN ASTUTE listener pointed out that we skipped chapter 9 of Deuteronomy way back between studies #44 and #45, so we begin this week by correcting that oversight. (Thank you, Marilyn!)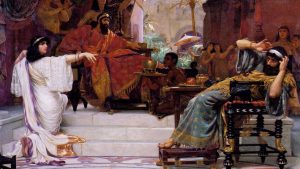 We find a wonderful nugget in Moses' directions to the Israelites, based on the intriguing link between the Hebrew word for "cities" and the Aramaic word for "Watchers."
Then we move to the climax of the Book of Esther, in which Haman gets his comeuppance, which was more gruesome than you've been taught. (The Hebrew word translated "gallows" really means "pike," or something similar. Think Vlad the Impaler, and you get the idea.)
One of the main takeaways from Esther is this bit of advice from Mordecai to his young cousin, the queen:
For if you keep silent at this time, relief and deliverance will rise for the Jews from another place, but you and your father's house will perish. And who knows whether you have not come to the kingdom for such a time as this?

Esther 4:14 (ESV)
Click here for the complete archive of our New Testament Bible studies to date, and click here for the Old Testament studies to date. Or go to www.spreaker.com/show/gilbert-house-fellowship for all of the audio.