NOT SURPRISINGLY, the exiles who returned to Jerusalem in 538 B.C. got discouraged pretty quickly and left off rebuilding the Temple.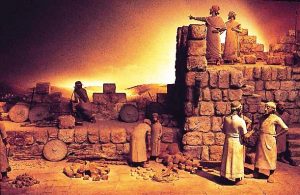 About eighteen years later, in 520 B.C., God sent the prophets Haggai and Zechariah to encourage the people to get busy. Somewhat surprisingly, the people listened! We discuss the prophetic aspects of the messages given to Haggai and Zechariah, and compare them to the actions of the nascent Sanhedrin today.
Here is a 3-D video walkthrough of the Temple Institute's planned Third Temple:
---
Click here for the complete archive of our New Testament Bible studies to date, and click here for the Old Testament studies to date. Or go to www.spreaker.com/show/gilbert-house-fellowship for all of the audio.