TODAY WE discuss the fall of Babylon. It wasn't just divine punishment for the hubris of King Belshazzar; this was a smackdown in the spirit realm.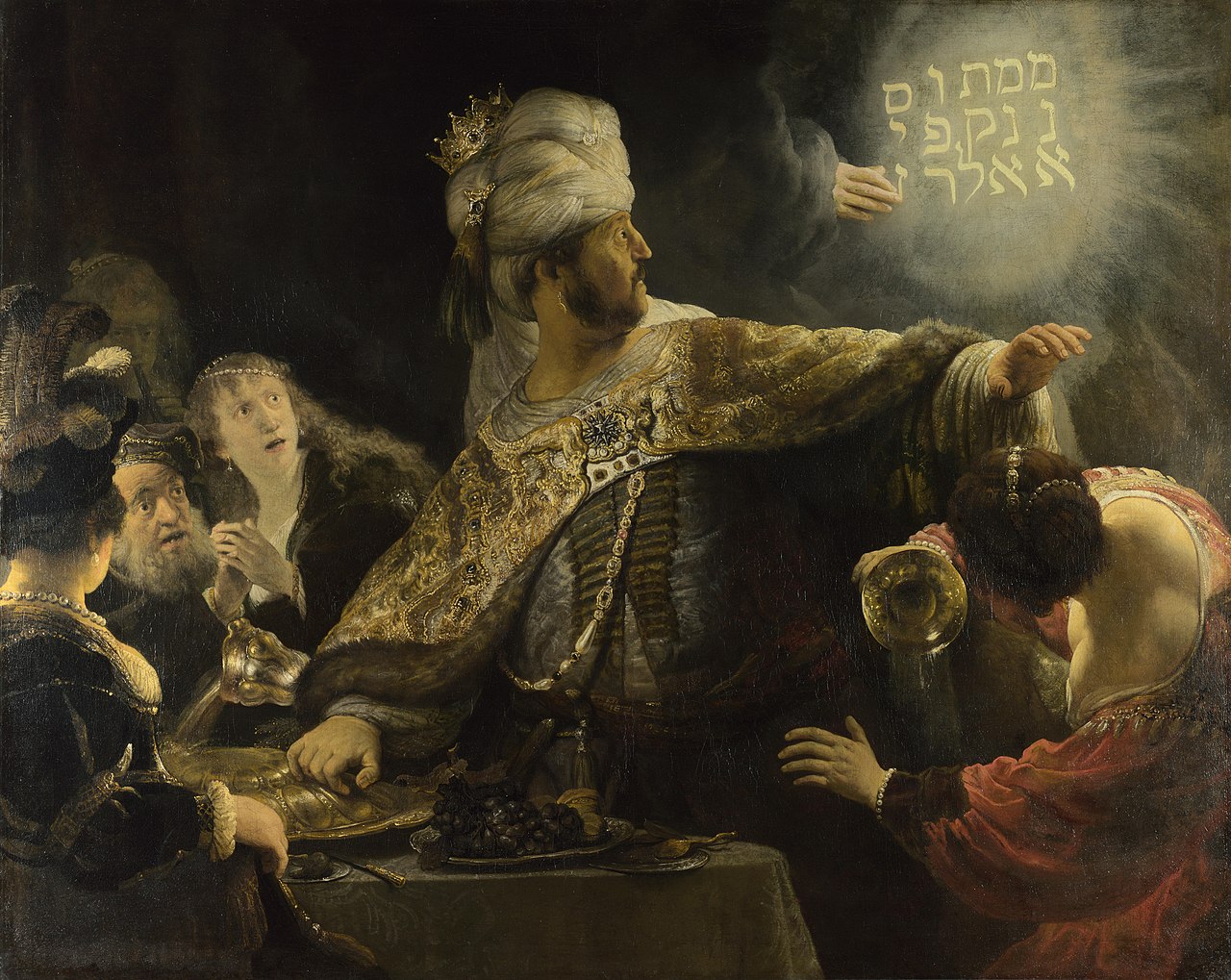 Interestingly, the target of God's wrath wasn't Marduk, city-god of Babylon and head of the Mesopotamian pantheon, it was the moon-god, Sîn. Belshazzar's father, Nabonidus, was the king of Babylon in 539 B.C., but he'd been living at Teima, an oasis in Arabia that was a center of the moon-god cult. Nabonidus was from Harran, another major center of moon-god worship, and his mother was a priestess in the temple of Sîn there.
Nabonidus had been pushing to replace Marduk in the top spot in the pantheon at Babylon with Sîn, and there is good historical and archaeological evidence to believe that Belshazzar's drunken feast — with the sacred utensils that had been taken by Nebuchadnezzar from the Temple in Jerusalem in 587 or 586 B.C. — was the fall /akitu/ festival, held every year in honor of the moon-god.
It also coincided with Sukkot, the Feast of Tabernacles, arguably the most important annual festival establish by God at Sinai — the mountain named for the moon-god.
In short, the writing on the wall was God's judgment on Babylon, of course, but more importantly it was a clear message to the fallen entity who was worshiped as the moon-god. The night of Belshazzar's feast was the last night of freedom for Babylon, a kingdom founded and ruled by worshipers of the moon-god.
Here is the link to the paper "Belshazzar's Feast and the Cult of the Moon God Sîn" by Al Wolters (link opens PDF document).

Click here for the complete archive of our New Testament Bible studies to date, and click here for the Old Testament studies to date. Or go to www.spreaker.com/show/gilbert-house-fellowship for all of the audio.