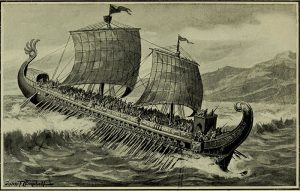 SHOCKING LANGUAGE intended to wake up the people of Judah kicks off our study of Ezekiel this week. Through the prophet, God compared the pagan practices of the nations to lewd behavior, and Ezekiel didn't soften the language at all.
God also had harsh words for Ammon, Moab, Edom, and the Philistines before turning His attention to the Phoenician city-state of Tyre. We explain why this wasn't a simple proclamation of doom on a pagan neighbor of the Israelites but an already-but-not-yet prophecy that will ultimately be fulfilled just before Armageddon.
---
Book Four of Sharon's series of supernatural thrillers The Redwing Saga, Realms of Stone, is available now at Amazon!
Here are the links for Book Three of The Redwing Saga, The Blood is the Life; Book Two, Blood Rites; and Blood Lies: Book One of The Redwing Saga. Visit Sharon's author page at Amazon.com for more.
Derek's latest book The Day the Earth Stands Still: Unmasking the Old Gods Behind UFOs, ETs, and the Official Disclosure Movement, co-authored with Josh Peck, is available now in paperback and as a Kindle e-book! See www.OfficialDisclosure.com for more info.
Derek's book The Great Inception: Satan's PSYOPs from Eden to Armageddon is now an e-book for the Kindle and Nook! For free samples, click here for articles from the book, or click here for a series of short (5-10 minute) videos based on the book.
---
Click here for the complete archive of our New Testament Bible studies to date, and click here for the Old Testament studies to date. Or go to www.spreaker.com/show/gilbert-house-fellowship for all of the audio.