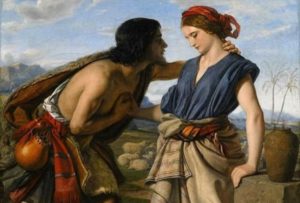 GOD INSPIRED the prophets Isaiah, Jeremiah, and Ezekiel to use the image of Israel as an unfaithful wife. He called Hosea to take it a step farther, directing the prophet to actually marry an adulterous woman to serve as an image of Israel's unfaithfulness to God.
We discuss the role of Gomer, the faithless wife, references to the divine council in Hosea, and we touch on the type of pagan worship described by the prophet and the pagan gods being followed by the Israelites of Hosea's day.
---
Breaking news! The Gilberts are going to Israel!
Derek and Sharon Gilbert along with Dr. Michael S. Heiser present the Year 70 Tour of Israel, May 6-16, 2018. Our tour will include Mount Hermon, the Grotto of Pan, the Golan Heights (Bashan, the kingdom of Og), Qumran (Dead Sea scroll caves), and, of course, the important sites in Jerusalem, including the holy mountain of God, Zion.
For information and to register, click here.
---
Sharon's new supernatural thriller Blood Lies: Book One of The Redwing Saga is now available! Click here to order Blood Lies in paperback, and click here to buy Blood Lies as a Kindle e-book.
Derek's new book The Great Inception: Satan's PSYOPs from Eden to Armageddon is the #1 New Release in Christian Prophecy at Amazon! For free samples, click here for a series of articles drawn from material in the book, or click here for a series of short (5-10 minute) videos based on the book.
---
Click here for the complete archive of our New Testament Bible studies to date, and click here for the Old Testament studies to date.