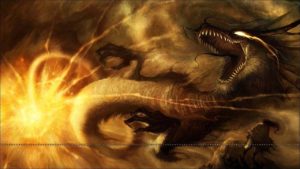 ISAIAH PROPHESIED the fall of Babylon before it had risen. At the time of the prophesies we read this week, Assyria was still the dominant power in the ancient Near East, but the phrase, "Fallen, fallen is Babylon," was revealed to the prophet anyway.
We discuss the prophecies of the destruction of Tyre, which here, as in Ezekiel, is linked to Babylon; Dedan, and its possible link to the Amorites (and the old gods of the Greeks, the Titans), from whom came the kingdoms of Tyre and Babylon; and the future final destruction of Leviathan.
Here is the link to the paper Derek mentioned, Resurrection and the Judgement of the Titans: ἡ γῆ τῶν ἀσεβῶν in LXX Isaiah 26.19 by Brook Pearson of the University of British Columbia.
Sharon's new supernatural thriller Blood Lies: Book One of The Redwing Saga is now available! Click here to order Blood Lies in paperback, and click here to buy Blood Lies as a Kindle e-book.
Derek's new book The Great Inception: Satan's PSYOPs from Eden to Armageddon is the #1 New Release in Christian Prophecy at Amazon! For free samples, click here for a series of articles drawn from material in the book, or click here for a series of short (5-10 minute) videos based on the book.
---
Click here for the complete archive of our New Testament Bible studies to date, and click here for the Old Testament studies to date.