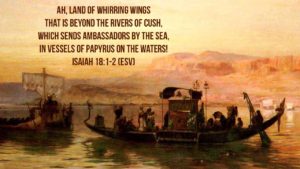 THE DESTRUCTION of Damascus was prophesied by Isaiah more than 2,700 years ago. While it's suffered during the last four years of civil war in Syria, it's not quite a "ruinous heap" just yet.
Isaiah also saw a day when Egypt and Assyria would worship God, and there are some who believe the Great Pyramid of Giza is a sign of this promise.
We also discuss the "land of whirring wings that is beyond the rivers of Cush" described in Isaiah 18. In our view, this is the most likely reference to the United States in the whole Bible.
Sharon's new supernatural thriller Blood Lies: Book One of The Redwing Saga is now available! Click here to order Blood Lies in paperback, and click here to buy Blood Lies as a Kindle e-book.
Derek's new book The Great Inception: Satan's PSYOPs from Eden to Armageddon is the #1 New Release in Christian Prophecy at Amazon! For free samples, click here for a series of articles drawn from material in the book, or click here for a series of short (5-10 minute) videos based on the book.
---
Click here for the complete archive of our New Testament Bible studies to date, and click here for the Old Testament studies to date.