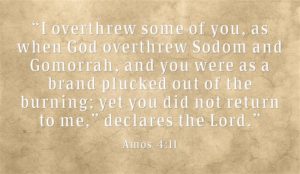 HE HADN'T intended to be a prophet, but that's the work to which the Lord called him. Amos, a contemporary of Isaiah, was a shepherd from south of Jerusalem in the kingdom of Judah. However, he devoted most of the nine chapters of his book to warning the northern kingdom of Israel about its imminent doom — a judgment decreed by God.
We discuss the prophecies of Amos against Samaria, highlight the fascinating difference at the beginning of Amos 7 in the Septuagint translation.
Here is the link to the article "The Cosmic Mountain and Trees In Old Testament Theology" by Dr. Michael Heiser. And here is the link to the article from the Institute of Creation Research about the earthquake of Amos. According to the article, "the earthquake in question was at least magnitude 7.8, but more likely was 8.2. This magnitude 8 event of 750 B.C. appears to be the largest yet documented on the Dead Sea transform fault zone during the last four millennia." Wow! No wonder Amos mentioned it. It would have been an event that nobody who'd lived through it would ever forget!
---
Sharon's new supernatural thriller Blood Lies: Book One of The Redwing Saga is now available! Click here to order Blood Lies in paperback, and click here to buy Blood Lies as a Kindle e-book.
Derek's new book The Great Inception: Satan's PSYOPs from Eden to Armageddon is also (finally) available! For a free preview, click here for a series of articles drawn from material in the book.
Click here for the complete archive of our New Testament Bible studies to date, and click here for the Old Testament studies to date.