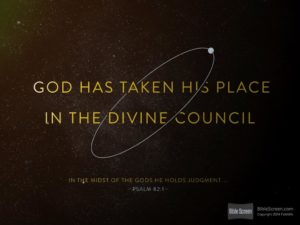 THE DIVINE COUNCIL in action and prophecy is the focus of this week's Old Testament study. Psalm 82 depicts a courtroom scene in the divine council with Yahweh declaring judgment on the lesser gods who "judge unjustly and show partiality to the wicked." Incredibly, the psalm prophesies a day when the small-G gods die "like men," which may have something to do with their bad attitude.
Psalm 83 follows with what may be a prophesy of a coming war between Israel and the Muslim nations around it. The psalm takes on new context if we assume the nations mentioned have been allocated to these lesser elohim — which, of course, they were.
Then we return to historical books to hear the rest of Elijah's life story. The prophet is one of two characters in the Bible (Enoch is the other) who was assumed into heaven without dying. We note the parallel between Elijah's association with the fire of God from heaven (i.e., the thunderbolt, which was supposed to be the exclusive weapon of Baal) and the power of the two witnesses of Revelation to summon fire from heaven.
And we discuss the short book of Obadiah, a prophecy of judgment against Edom for its participation in the sack of Jerusalem by Babylon in 586 B.C.
Join us in Dallas March 31-April 2 for the Hear the Watchmen conference, God's Great Gathering! Click here for information and to register. Save $20 with the promo code SKYWATCH!
Derek's new book The Great Inception: Satan's PSYOPs from Eden to Armageddon will be available by mid-March. Want a free preview? Click here for a series of articles drawn from material in the book.
---
Click here for the complete archive of our New Testament Bible studies to date, and click here for the Old Testament studies to date.