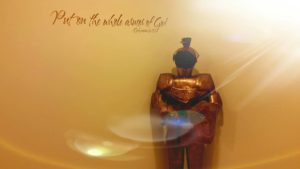 OUR STUDY in the New Testament this week focuses on military formations and tactics, although it might not seem that way at first. We cover Ephesians 5 and 6, with a lot of time on the passages that instruct husbands and wives on their relationships to one another and a description of the whole armor of God — and why those verses describe a holding action and not an attack on the Enemy.
Note that in the "full armor of God" passages (Ephesians 6:11-20) Paul uses the word "stand" four times. That's stand, not attack. We are called to hold our ground and protect the weak and injured until Christ returns at the head of a heavenly army. We are not called to conquer the world in his name, a false teaching that has led the Church astray for centuries.
Join us in Dallas March 31-April 2 for the Hear the Watchmen conference, God's Great Gathering! Click here for information and to register. Save $20 with the promo code SKYWATCH!
Click here for the complete archive of our New Testament Bible studies to date, and click here for the Old Testament studies to date.