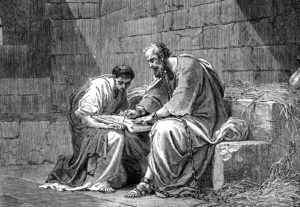 LETTERS FROM Paul in Rome are the focus of this week's New Testament study, and there is a lot of meat here. Paul addressed errant teachings that threatened to undermine the gospel of salvation by grace through faith at Colossae and Ephesus.
It appears some teachers had arrived preaching that Gentiles needed to follow the Law of Moses to be saved. Paul was very direct about that:
Therefore let no one pass judgment on you in questions of food and drink, or with regard to a festival or a new moon or a Sabbath. These are a shadow of the things to come, but the substance belongs to Christ.
Colossians 2:16-17 (ESV)
Paul also addressed ongoing hostility between Jews and Gentiles, pointing out that the "wall of hostility" between the groups had been destroyed at the Cross, the worship of angels, and the proper roles of husbands, wives, and bondservants as followers of Jesus Christ.
Click here for the complete archive of our New Testament Bible studies to date, and click here for the Old Testament studies to date.