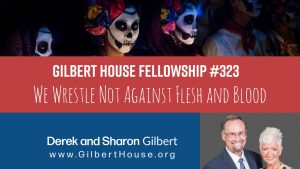 HALLOWEEN CELEBRATES death and the dead. Today, we set aside our schedule of scripture to discuss the spirits and how they've convinced humanity that engaging in practices forbidden by God is not only harmless, but profitable and fun.
We discuss Santa Muerte's rise to prominence in Mexico, California's schools embracing Aztec death cults as "ethnic studies," and the spiritual and symbolic links between ancient Mesopotamia and the present day.
Here's the link to Derek's interviews with Tony Kail about Santa Muerte and Mexico's "narco-cults." You can find Tony's book Santa Muerte: Mexico's Mysterious Saint of Death in paperback and Kindle at Amazon.com.
---
JOIN US IN ISRAEL! We will lead our next tour through the Holy Land March 19 – 30, 2023, with an optional three-day extension to Jordan, with visits to Mount Nebo, Wadi Rum, and Petra. For more information, log on to www.SkyWatchinIsrael.com.
Our book Giants, Gods & Dragons is available in Kindle and paperback! Get it as part of a great package with more than 27 hours of our video teachings at the SkyWatchTV Store or at Amazon.com.
Derek's novels The God Conspiracy and Iron Dragons are available in paperback and Kindle! See the official trailers and learn more at the website for Rose Avenue Fiction (www.roseavenuefiction.com).
Our book Veneration is available for Amazon's Kindle e-book reader! Click here and find out why readers rate Veneration 4.7 out of 5, describing it as "a must read" that "opens up…the Bible's hidden mysteries."
Click here for the complete archive of our New Testament Bible studies to date, and click here for the Old Testament studies to date. Or go to www.spreaker.com/show/gilbert-house-fellowship for all of the audio.