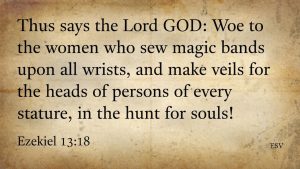 THE FAITHLESS prophets and elders of Israel were singled out by Yahweh for special condemnation in this week's reading. We discuss those who should have been looking after the spiritual health of God's chosen people, but who allowed Israel and Judah to fall into forbidden religious practices.
One of these was the "hunt for souls," something the women of Judah engaged in that was apparently related to necromancy rituals common in the ancient Near East.
Download our free mobile app! Links to the App Store and Google Play store are posted at www.GilbertHouse.org.
Book Three of Sharon's series of supernatural thrillers The Redwing Saga, The Blood is the Life, is available now at Amazon! Here are the links for Book Two of The Redwing Saga, Blood Rites, and Blood Lies: Book One of The Redwing Saga, and here's the link for Sharon's author page at Amazon.com.
Derek's new book The Day the Earth Stands Still: Unmasking the Old Gods Behind UFOs, ETs, and the Official Disclosure Movement, co-authored with Josh Peck, is available now in paperback and as a Kindle e-book! See www.OfficialDisclosure.com for more info.
Derek's book The Great Inception: Satan's PSYOPs from Eden to Armageddon is now an e-book for the Kindle and Nook! For free samples, click here for articles from the book, or click here for a series of short (5-10 minute) videos based on the book.
---
Click here for the complete archive of our New Testament Bible studies to date, and click here for the Old Testament studies to date. Or go to www.spreaker.com/show/gilbert-house-fellowship for all of the audio.