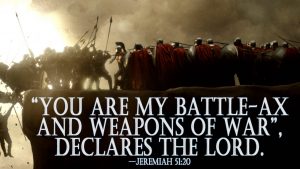 JEREMIAH'S PROPHECY of doom against Babylon concludes this week as he declares the kingdom's destruction at the hands of the Medes. The prophecy was fulfilled some fifty years later in 539 B.C.
Digging deeper into the prophecy, we see more evidence for the divine council in action, especially God's decree of judgment on the fallen bene elohim and demonic spirits behind the pantheon of Babylon. The promised punishment would make no sense if they had been directed at lifeless idols or carved images (see Jeremiah 51:47 and 51:52).
We also discuss the significance of the "burnt mountain" in Jeremiah 51:25 and its possible connection to the Book of Enoch.
The book of Jeremiah concludes with a review of the final years of the kingdom of Judah, from the beginning of Zedekiah's reign in 597 B.C. until the destruction of the Temple and the walls of Jerusalem in 586 B.C.
---
Book Three of Sharon's series of supernatural thrillers The Redwing Saga, The Blood is the Life, is available now at Amazon! Here are the links for Book Two of The Redwing Saga, Blood Rites, and Blood Lies: Book One of The Redwing Saga, and here's the link for Sharon's author page at Amazon.com.
Derek's new book The Day the Earth Stands Still: Unmasking the Old Gods Behind UFOs, ETs, and the Official Disclosure Movement, co-authored with Josh Peck, is available now in paperback and as a Kindle e-book! See www.OfficialDisclosure.com for more info.
Derek's book The Great Inception: Satan's PSYOPs from Eden to Armageddon is now an e-book for the Kindle and Nook! For free samples, click here for articles from the book, or click here for a series of short (5-10 minute) videos based on the book.
---
Click here for the complete archive of our New Testament Bible studies to date, and click here for the Old Testament studies to date. Or go to www.spreaker.com/show/gilbert-house-fellowship for all of the audio.