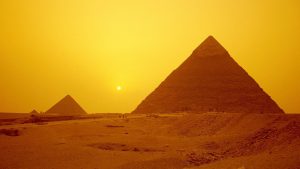 THE SOJOURN in Egypt was such a defining moment in the history of Israel and Judah that you would think the last thing Judeans would want is to go back there. You would be wrong.
This week's study begins with the immediate aftermath of Nebuchadnezzar's destruction of the Temple. A remnant in Judah, afraid of retribution from Babylon because of the assassination of the governor appointed by Nebuchadnezzar, asked Jeremiah to ask YHWH whether fleeing to Egypt was His will. Thing is, they'd decided to go regardless of His answer (which, for the record, was, "No.")
We also begin a series of prophesied judgments against the neighbors of Israel with destruction decreed on the Philistines and the people of Moab. In these prophecies are some fascinating glimpses into the workings of the divine council, as we find a description of another judgment by God on the gods of Egypt, as well as references to Chemosh, the Queen of Heaven (probably Ishtar/Astarte), Plague (Deber), Pestilence (Maveth, known to the Canaanites as Mot, the god of death), and the Destroyer (possibly the Semitic deity Resheph), all of which were understood to be real entities by the prophets.
---
Book Three of Sharon's series of supernatural thrillers The Redwing Saga, The Blood is the Life, is available now at Amazon! Here are the links for Book Two of The Redwing Saga, Blood Rites, and Blood Lies: Book One of The Redwing Saga, and here's the link for Sharon's author page at Amazon.com.
Derek's new book The Day the Earth Stands Still: Unmasking the Old Gods Behind UFOs, ETs, and the Official Disclosure Movement, co-authored with Josh Peck, is available now in paperback and as a Kindle e-book! See www.OfficialDisclosure.com for more info.
Derek's book The Great Inception: Satan's PSYOPs from Eden to Armageddon is now an e-book for the Kindle and Nook! For free samples, click here for a series of articles drawn from material in the book, or click here for a series of short (5-10 minute) videos based on the book.
---
Click here for the complete archive of our New Testament Bible studies to date, and click here for the Old Testament studies to date. Or go to www.spreaker.com/show/gilbert-house-fellowship for all of the audio.