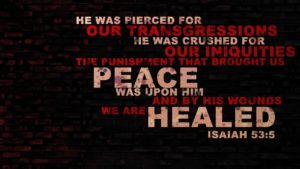 THERE IS a chapter in the Book of Isaiah that is so clearly about the suffering servant, the Messiah, that rabbis have tended to avoid it for centuries.
This week, we discuss the prayer of Hezekiah for deliverance from the army of Assyria, God's miraculous reply, and the prophecy of Isaiah 53 so powerful that it has essentially been blackballed in modern Judaism.
Click here for comments on Isaiah 53 by respected rabbis through history and a list of New Testament references to Isaiah's prophecy.
Get 20% off the video archives for the Sign in the Heavenlies Conference! Click here and use the promo code GILBERT20.
---
The True Legends Conference in Branson is also sold out, but you can see Steve Quayle, Tom Horn, L. A. Marzulli, Timothy Alberino, Dr. Michael Lake, Pastor David Langford, Henry Gruver, and Derek Gilbert via live video stream. To order, log on to www.GenSixConferences.com.
---
Breaking news! Only 7 spots left for the Year 70 Tour of Israel!
Derek and Sharon Gilbert along with Dr. Michael S. Heiser present the Year 70 Tour of Israel, May 6-16, 2018. Our tour will include Mount Hermon, the Grotto of Pan, the Golan Heights (Bashan, the kingdom of Og), Qumran (Dead Sea scroll caves), and, of course, the important sites in Jerusalem, including the holy mountain of God, Zion.
But hurry — this tour is nearly full! For information and to register, click here.
---
Sharon's new supernatural thriller Blood Lies: Book One of The Redwing Saga is now available! Click here to order Blood Lies in paperback, and click here to buy Blood Lies as a Kindle e-book.
Derek's book The Great Inception: Satan's PSYOPs from Eden to Armageddon is now an e-book for the Kindle and Nook! For free samples, click here for a series of articles drawn from material in the book, or click here for a series of short (5-10 minute) videos based on the book.
---
Click here for the complete archive of our New Testament Bible studies to date, and click here for the Old Testament studies to date.