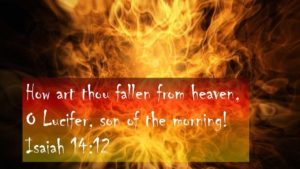 ALREADY BUT not yet. That's a phrase we use often when discussing Bible prophecy, and it's appropriate again this week.
We discuss the destruction of the northern kingdom, Israel, by the Assyrians as punishment for abandoning the LORD. Then we look at two chapters of the fascinating Book of Isaiah.
In chapter 13, Isaiah prophesies a bitter end for Babylon, which God decreed would be a desolate place, a haunt for "wild animals," "howling creatures," and "wild goats" — the se'irim, or goat demons (translated "satyrs" in the KJV), to which the Israelites offered sacrifices in the desert after leaving Egypt (see Leviticus 17:7).
Remember, Isaiah prophesied the destruction of Babylon between about 740 B.C. and 686 B.C., more than a hundred years before Babylon overthrew Assyria. Nebuchadnezzar eventually defeated Judah and sacked Jerusalem in 587 B.C., taking the southern kingdom, Judah, into captivity.
And then we come to the famous 14th chapter, where Isaiah references the fall of the divine rebel from the garden, Helel ben Shachar ("Lucifer, son of the morning" in the KJV). We discuss the mysterious "shades" of Sheol who greeted the fallen Day Star, the identity of the divine rebel, and the prophetic significance of the "the mount of assembly
in the far reaches of the north."
Sharon's new supernatural thriller Blood Lies: Book One of The Redwing Saga is now available! Click here to order Blood Lies in paperback, and click here to buy Blood Lies as a Kindle e-book.
Derek's new book The Great Inception: Satan's PSYOPs from Eden to Armageddon is the #1 New Release in Christian Prophecy at Amazon! For free samples, click here for a series of articles drawn from material in the book, or click here for a series of short (5-10 minute) videos based on the book.
---
Click here for the complete archive of our New Testament Bible studies to date, and click here for the Old Testament studies to date.