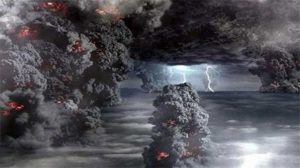 GOD'S JUDGMENT on an unrepentant world is the focus of this week's New Testament study.
John was shown terrifying imagery of disasters so catastrophic that the earth is literally shaken to its core. But take heart — the church of Jesus Christ is not appointed to wrath, so if you have accepted Christ as your Savior, you won't be here for it.
We discuss the first six trumpet judgments, speculate on why Dan is not among the tribes of Israel sealed by God during the Great Tribulation, briefly explain the 70 weeks of Daniel (Daniel 9:24-27), and explain why Joel's Army (see Joel 2:1-11) is actually the horde of demonic locusts released from the abyss by Apollyon (Apollo, also called Abaddon — called Resheph by Canaanites and Nergal by the Babylonians) in Revelation 9.
Sharon's new supernatural thriller Blood Lies: Book One of The Redwing Saga is now available! Click here to order Blood Lies in paperback, and click here to buy Blood Lies as a Kindle e-book.
Derek's new book The Great Inception: Satan's PSYOPs from Eden to Armageddon is also (finally) available! For a free preview, click here for a series of articles drawn from material in the book.
---
Click here for the complete archive of our New Testament Bible studies to date, and click here for the Old Testament studies to date.