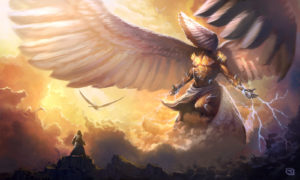 PROPHESYING DURING a time just before a calamity has to be one of the worst jobs ever. Isaiah was called to be a prophet during a visit to the throne room of God to preach to the kingdom of Judah, but his orders were to
Make the heart of this people dull,
   and their ears heavy,
   and blind their eyes;
lest they see with their eyes,
   and hear with their ears,
and understand with their hearts,
   and turn and be healed.
Seriously, who'd want that job?
We discuss the historical setting of Isaiah's ministry, the holy mountain concept, and the parallels between the vision of Isaiah and what the apostle John was shown more than 700 years later.
The Hear the Watchmen conference in Dallas is sold out! But you can join us via live video stream. The cost is $39 and all presentations will be archived for 30 days after the conference. Click here to order the live stream, and save 5% with the promo code GILBERT5.
Derek's new book The Great Inception: Satan's PSYOPs from Eden to Armageddon will be available very soon! For a free preview, click here for a series of articles drawn from material in the book.
---
Click here for the complete archive of our New Testament Bible studies to date, and click here for the Old Testament studies to date.