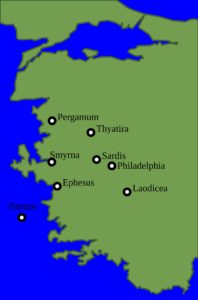 NOW WE get to the prophetic stuff! The Book of Revelation was written by John, either in the mid-60s A.D. or around 95 A.D. Most scholars believe it was the later date, during the reign of Domitian, although some believe it was thirty years earlier, during the reign of Nero.
Either way, Revelation is a deep and fascinating prophecy given to John by Jesus himself. This week, we discuss the introduction to the book and the messages from Jesus to the seven churches of Asia. All seven are in modern-day Turkey, which may have significance for the last days. We briefly explain how the seven churches represent the ages of church history (see the chart below) and various heresies that had entered the church before the end of the first century A.D.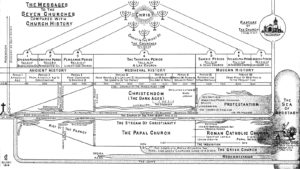 Join us in Dallas March 31-April 2 for the Hear the Watchmen conference, God's Great Gathering! Click here for information and to register. Save $20 with the promo code SKYWATCH.
If you can't be in Dallas for the conference, join us via live video stream! Cost is $39 and all presentations will be archived for 30 days after the conference. Click here to order the live stream, and save 5% with the promo code GILBERT5.
Derek's new book The Great Inception: Satan's PSYOPs from Eden to Armageddon will be available within weeks! For a free preview, click here for a series of articles drawn from material in the book.
---
Click here for the complete archive of our New Testament Bible studies to date, and click here for the Old Testament studies to date.