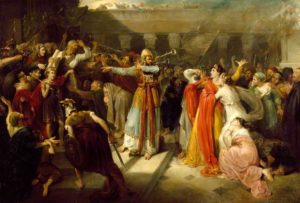 IRON AGE history is a bloody business, and the history of the kings of Israel and Judah is no different. This week's Old Testament study looks at transfers of power — somewhat less than peaceful — in the generation following Ahab and Jehoshaphat.
One thing you can say about Athaliah, the daughter of Ahab and Jezebel and the only queen in the history of Judah — she was definitely her mother's daughter.
Join us in Dallas March 31-April 2 for the Hear the Watchmen conference, God's Great Gathering! Click here for information and to register. Save $20 with the promo code SKYWATCH.
If you can't be in Dallas for the conference, join us via live video stream! Cost is $39 and all presentations will be archived for 30 days after the conference. Click here to order the live stream, and save 5% with the promo code GILBERT5.
Derek's new book The Great Inception: Satan's PSYOPs from Eden to Armageddon will be available within weeks! For a free preview, click here for a series of articles drawn from material in the book.
---
Click here for the complete archive of our New Testament Bible studies to date, and click here for the Old Testament studies to date.