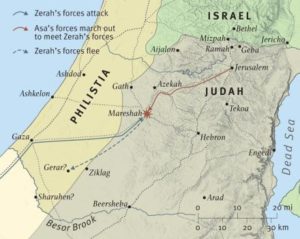 THE TALE of two kingdoms continues in our Old Testament study this week. We get the stories of the northern kings of Israel Nadab, Baasha, Elah, Zimri, and Omri, and the southern kings of Judah Abijah, Asa, and Jehoshaphat.
We discuss the conflicts between Israel and Judah, and the miraculous victory of Judah over a huge force led by Zerah the Ethiopian. (Scholars Peter van der Veen and Peter James make a case for one Userḫau, Egypt's "Overseer of the Northern Foreign Lands" during the reign of Ramesses IV, as Zerah.)
And scholars for hundreds of years have believed there is a simple solution to the question about when Baasha died (how could he attack Judah in the 36th year of Asa's reign when he died in the 26th. The conclusion is that the attack came in the 36th year of Asa's kingdom, Judah, which would have been the 16th year of Asa's reign. (The Hebrew word for "reign" and "kingdom" are the same.)
Join us in Dallas March 31-April 2 for the Hear the Watchmen conference, God's Great Gathering! Click here for information and to register. Save $20 with the promo code SKYWATCH!
NOTE: This weekend only, through 9:00 PM Eastern Time (UTC -5), get a special promo code to save more than $40 for the Hear the Watchmen Conference by watching the latest episode of SciFriday! Click here to watch the program on YouTube.
---
Click here for the complete archive of our New Testament Bible studies to date, and click here for the Old Testament studies to date.