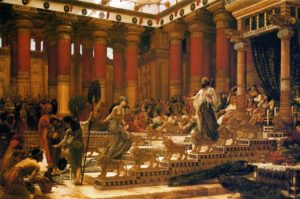 ENTANGLEMENTS WITH cares of the world, whether it's business, politics, or personal relationships, can distract us from what we're called to do by God.
This week, we see the fall of Solomon, whose wives draw him into the worship of pagan gods like Ashtereth (Astarte; i.e., Ishtar), Chemosh, and Molech. For his apostasy, God took the northern tribes away from Solomon's descendants, leaving the House of David as rulers of only Judah and Benajmin.
We also discuss the visit of the queen of Sheba and two chapters of Proverbs, including the famous section of Proverbs 31 that describes the ideal wife.
NOTE: Derek erroneously named Joash as the king who returned the Ark of the Testimony to the Temple. It was actually King Josiah (2 Chronicles 35:1-6).
Join us in Dallas March 31-April 2 for the Hear the Watchmen conference, God's Great Gathering! Click here for information and to register. Save $20 with the promo code SKYWATCH!
Click here for the complete archive of our New Testament Bible studies to date, and click here for the Old Testament studies to date.