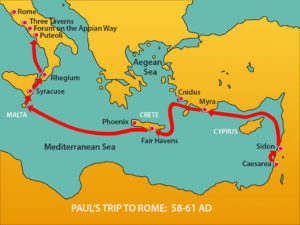 PAUL TRAVELED to Rome in A.D. 60, but not the way he would have wanted. Getting a ride on an Alexandrian grain ship, the biggest vessels crossing the Mediterranean Sea in the 1st century, Paul and his traveling companions, which included Luke and Aristarchus among the 276 people aboard the ship, suffered through a storm that blew them off course and left them adrift for a couple weeks. They finally ran the ship aground at Malta where they spent the winter before completing the journey to Rome.
Click here for the interview with Mark Gatt, author of PAVLVS: The Shipwreck 60 A.D., on his discovery of the anchor from the ship that delivered Paul to Malta.
Click here for the complete archive of our New Testament Bible studies to date, and click here for the Old Testament studies to date.