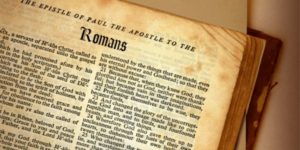 THE RELATIONSHIP between the Law and grace is central to our New Testament study this week. Paul makes it clear that while the Law instructs us on the nature of sin, it does not help us overcome sin. That is the work of grace through faith in Jesus Christ.
Romans is the longest of Paul's letters, and the one in which he most thoroughly lays out the doctrine of salvation. This is why the Romans Road is such a valuable witnessing tool.
Here is the link to Derek's presentation on the history of ghosts, witches, vampires, and werewolves for Halloween for SkyWatchTV (link opens a YouTube video).
Click here for the complete archive of our New Testament Bible studies to date, and click here for the Old Testament studies to date.