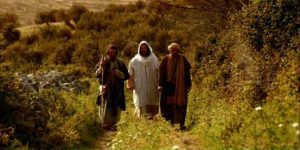 WE CONCLUDE our study of the gospels this week with the accounts of the Resurrection. We discuss the gospel accounts of the encounter at the empty tomb and why the apparent contradictions are not contradictions at all, the significance of the first witnesses to the risen Christ being women, and Peter's sermon on Pentecost, the first post-Resurrection sermon in the history of Christianity.
Here are the links to the videos of Derek's presentation at Morningside Church, "The Great Inception: Satan's PSYOPs from Eden to Armageddon":  Part 1, and part 2.
Click here for the complete archive of our New Testament Bible studies to date, and click here for the Old Testament studies to date.