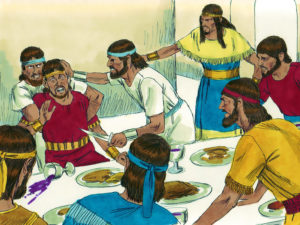 THE PSALMS in our study this week reflect the mood of David after his sin in sending Uriah the Hittite to his death. We discuss several penitential psalms, including the best-known (Psalm 51).
We then look at the consequences of David's shortcomings as a father as his eldest son, Amnon, rapes his half-sister, Tamar, the sister of David's son Absalom. Absalom waits two years and then murders Amnon. After three years of exile in the small Aramean kingdom of Geshur, Absalom returns to Jerusalem, is eventually reconciled to David — and then organizes a rebellion against him.
Click here for the complete archive of our New Testament Bible studies to date, and click here for the Old Testament studies to date.