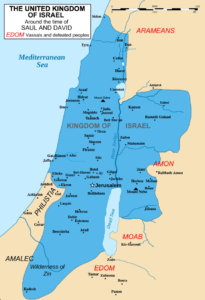 DAVID CONSOLIDATES control over his kingdom and subjugates Israel's neighbors Philistia, Moab, Edom, Ammon, Aram-Damascus, and Zobah, extending his control from the border with Egypt to the Euphrates River in the far north.
We also study a number of Psalms, some of lamentation, some of praise, and another — Psalm 29 — that is another example of Old Testament writers applying imagery and characteristics to Yahweh that the Canaanites used to describe their god, Ba'al.
Click here for the complete archive of our New Testament Bible studies to date, and click here for the Old Testament studies to date.