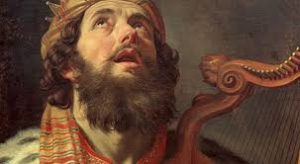 THE PSALMS of David take center stage this week.  The tone of the psalms changes as well, as David's circumstances have shifted from running and hiding to ascending to the throne of Israel.
Our chronological reading order takes us into the genealogies of 1 Chronicles 1 and 2, which recapitulate the lists of generations in the Book of Genesis.
To access the archive of Old Testament studies beginning with Genesis 1, click here. For our New Testament studies beginning with Matthew 1, click here.